About this calculator: Yes pools are expensive to build. Everone knows that. But how expensive? Well, as with any construction project, the exact answer depends on a lot of different design choices that need to be made. The cost of an average in-ground concrete swimming pool varies by location, shape, size, and decorative quality. The point of this website is to give you a ballpark estimate based on only a few of these variables. Of course you'll need to hire a contractor to get an exact cost to build a pool, but with this simple tool you can at least know ABOUT how much you'll need to spend to get the kind of pool you have in mind.
Assumptions: Building a pool is not really the sort of construction project that MOST people consider doing themselves. It is possible to build an inground pool yourself, and DIY kits are available to help. But building an in-ground swimming pool is a complex project that most people won't do themselves. This calculator, therefore, assumes that you'll be hiring a professional contractor. These cost estimates all assume labor and materials provided by a contractor. Of course you can be your own general contractor (and save quite a bit), but concrete and plumbing and electrical contractors should be hired to ensure things are done right and to have the work warrantied. It does take a lot of time to be a GC, but it was worth the savings for me. I recommend that you find reputable contractors by using Home Advisor (craigslist contractors are usually cheaper but I would avoid). The pool construction material assumed in this calculator is concrete. It is the most common type of pool made today and they offer limitless options for shape, configuration, and features.
Consider an above ground pool: Before you completely write off the idea of an above ground swimming pool, just take a quick look at how much they've changed over the years. And keep in mind that they're not just a little bit cheaper - they are a LOT cheaper. Here's the most popular pool sold on Amazon:
Swimming Pool Construction Costs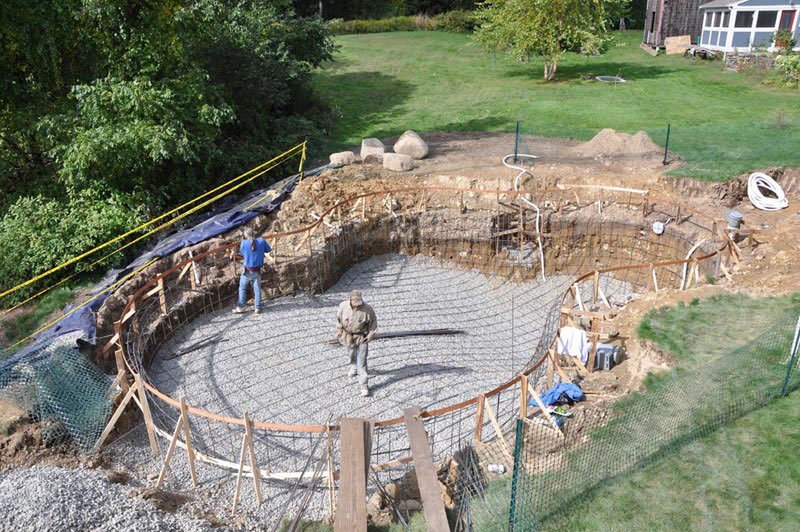 With summer approaching, the sun shining down bright and the heat making it hard to enjoy, many people tend to install swimming pools in their homes. Of course one can always enjoy swimming in a pool in a club, hotel or any other place but if the pocket allows, one can always get their very own swimming pool installed. Undoubtedly, there cannot be a better way to beat the heat other than a cool and relaxing time spent swimming in a swimming pool, that too at the comfort of your own home. However, as enticing as it may sound, having a swimming pool installed can get quite heavy on the pocket. According to the home improvement site Fixr, the average in-ground swimming pool costs around $21,919. Thus, it important that you analyze all the costs incurred in installing a swimming pool and ask your local contractor to give you an idea of the market rates floating in the area. One should keep in mind to take into account both obvious and hidden costs involved in the process.
The most common types of swimming pools constructed are divided into two categories; the above ground and the in ground varieties. The costs incurred in building both kinds of swimming pools are different. While many people choose to go for a do-it-yourself swimming pool construction, which is also quite possible, it is advisable to hire a professional to do this job as the work done by a professional offers better life span and guarantee of the pool. Moreover, a DIY would cost you a hefty amount that too for a swimming pool giving a life of three years to the maximum.
Breakdown of costs
Above ground pools
These modern pools come in the form of kits and are sold by professional pool companies. Building an above ground pool takes into account the following prerequisites:
Preparation of the site which includes leveling the area for the swimming pool to be built
Arranging for electrical access as a swimming pool needs an electrical pump to regulate the circulation of water and ensure its cleanliness
The kits of these pools include pumps, filter systems and ladders most of the times.
According to P.K. data, the cost of a 19' diameter above ground swimming pool is $6,243 on an average. But check on Amazon first, where they have great pools available for around $2000.
In-Ground pools
The cost of in-ground pools is more considerably more than above ground pools. Definitely when one chooses to build a pool as an in-ground model, it will become costlier as the materials used and the area covered also increase. In-ground pools can be made with a liner, from vinyl or fiberglass. However, the cheapest option is choosing vinyl which states a standard cost of $25,700. Usage of concrete and gunite pools amounts to a figure ranging from $29,600 to $50,000. The fiberglass usage in in-ground pools hikes to an amount of $31,400 on an average. The costs for in-ground pools are also increased as they require a patio and fencing to be installed around it most of the times.For this reason, most people will need to get a pool loan.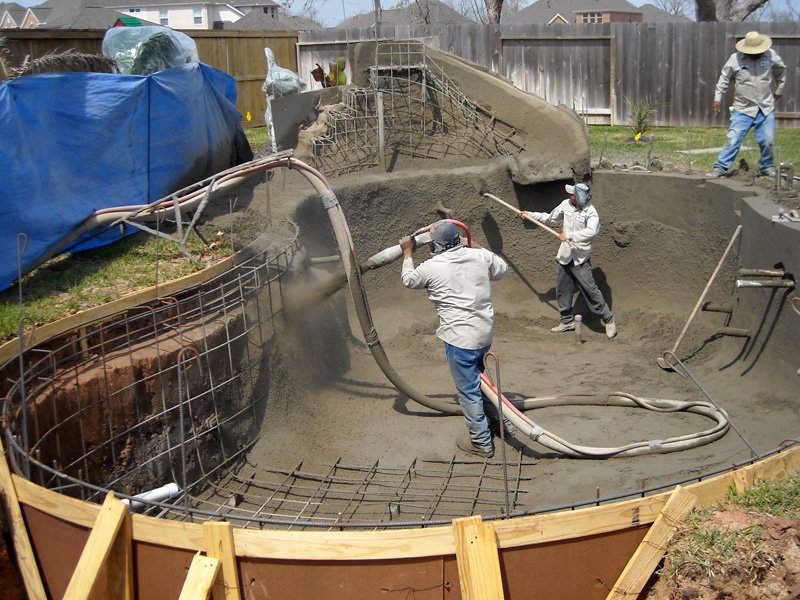 Fiberglass pools have a non-abrasive surface and are low maintenance as the gel coat on their surface is quite substantial and limits the maintenance costs. Moreover, it comes with built-in seats and steps and has almost no life time cost involved as no vinyl liner is needed to resurface or replace it. They are installed quickly and take around 3 to 5 weeks on average to be installed. However, the drawback of using this option is that fiberglass pools are limited to only a few designs and shapes and do not go wider than 16' due to the shipping restrictions.
On the other hand, vinyl liner pools have limitless shapes, designs and sizes. These types of pools are also nonporous and have a smooth non-abrasive liner. Although the vinyl liner pools have the lowest initial cost in comparison to the other in-ground pools, it has an extremely high lifetime cost requiring a replacement expense of around $2,500 to $3,500 after nearly every 7 to 15 years. It has a lower resale value and needs the users to be cautious about its breakage as it does not have a very thick lining.
Concrete pools do not have a limitation to the shape, size and depth and can be beautified into endless designs and possibilities. However, they take around 2 to 4 months to install and have a higher lifetime cost, higher usage of chemicals and more maintenance costs.
Other costs and expense
Although the average costs stated above cover the total expense of installing a swimming pool quite accurately but one must not overlook the extra costs that are associated with building a pool. These costs are attached to the maintenance of the pool. Cleaning tools such as brushes, vacuum assemblies and chemicals along with heaters, handrails and thermometers might also be needed for both types of swimming pools. The following table can give you a good idea of the total costs incurred in choosing any swimming pool.
| | |
| --- | --- |
| ALTERNATIVES | COSTS |
| Building cost | $6,200 - $22,000 |
| Above ground | $6,200 |
| In ground | $16,700 - $31,400 |
| In-ground concrete | $29,600 |
| In-ground fiberglass | $31,400 |
| In-ground vinyl | $25,700 |
| Indoor swimming pool | $20,000 |
| Pool enclosure | $22,125 |
| Pool heater | $1,800 - $2,400 |
| Pool fence | $1,120 |
| Water filter | $1,005 |
| Water pump | $2,100 - $3,000 |
| Waterfall | $1,020 |
Conclusion
Although the choice of swimming pools depends totally on the user's convenience and requirements, the above mentioned costs can give a rough estimate of the total amount incurred in each type of swimming pool. Each type of pool has its set of advantages and disadvantages which one must carefully consider before making the final decision. For accurate figures and facts, one must get in touch with their local contractors and ask them for an estimate by stating their region/city or zip code and get an exact amount of the total cost of building a swimming pool in your area along with the miscellaneous costs attached to it for a lifetime.
Be sure to use the pool cost calculator shown above to give you an idea of the cost involved to install a swimming pool on your property. The tool breaks down the cost for each of the major tasks involved into labor and materials. You can always save on the cost by doing some of the work yourself.